Green-Garner Award

Each year at its annual Fall Conference, the Council presents a board member or superintendent with the Green-Garner Award, the nation's highest urban education honor recognizing outstanding contributions in urban education and named in memory of urban school leaders Richard R. Green and Edward Garner.
Sponsored by the Council, ARAMARK Education and Scholastic, Inc., the Green-Garner Award is the namesake of the first African American chancellor of the New York City school system and a businessman and former school board president of the Denver Public Schools, respectively.

The 2016 Green-Garner Award was presented to Eric Gordon, CEO of the Cleveland Metropolitan School District, who has served as CEO since 2007, and under his leadership graduation rates have risen, parent participation has strengthened and the district has experienced an increase in enrollment for the first time in decades.
"Eric Gordon has made a profound difference in the lives of thousands of Cleveland's students, helped propel a once-struggling school system forward and significantly contributed to the future of the great city of Cleveland," said Michael Casserly, the Council's executive director. "Well done, Eric Gordon."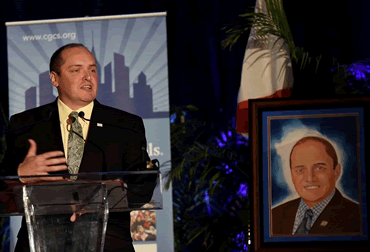 Eric Gordon accepts the Green-Garner award at the Council's 60th Annual Fall Conference in Miami.
Richard R. Green Award Winners
1989

W. Harry Davis, Retired Member

Minneapolis School Board
1990 Timothy Dyer, Superintendent

Phoenix Union High School District

James Griffin, Retired Member
St. Paul School Board
1991 Paul Houston, Superintendent
Tucson Unified School District
1992 Richard Wallace Jr., Superintendent
Emeritus
Pittsburgh Public Schools
1993 Constance Clayton, Superintendent
School District of Philadelphia
1994 Holmes Braddock, Board Member
Miami-Dade County Public Schools
1995 Curman Gaines, Superintendent
St. Paul Public Schools
1996 James Williams, Superintendent
Dayton Public Schools
1997 Maxine Smith, Retired Member
Memphis City School Board
1998 Gerry House, Superintendent
Memphis City Public Schools
1999 Rod Paige, Superintendent
Houston Independent School District
Judith Farmer, Board Member
Minneapolis Public Schools
2000 Eric Smith, Superintendent
Charlotte-Mecklenburg Schools
2001 Barbara Byrd Bennett, Superintendent
Cleveland Municipal School District
2002 John Simpson, Superintendent
Norfolk Public Schools
2003 Arthur Griffin, Board Member
Charlotte-Mecklenburg Schools
Franklin Till, Superintendent
Broward County Public Schools
2004 Tom Payzant, Superintendent
Boston Public Schools
2005 Anna Dodson, Board Member
Norfolk Public Schools
2006 Beverly Hall, Superintendent
Atlanta Public Schools
2007 Elizabeth Reilinger, Board Member
Boston Public Schools
2008 Pascal Forgione, Superintendent
Austin Independent School District
2009 Emmet Johnson, Board Member
Atlanta Public Schools
2010 Arlene Ackerman, Superintendent
School District of Philadelphia
2011 Candy Olson, Board Member
Hillsborough County Public Schools
2012 Carol Johnson, Superintendent
Boston Public Schools
2013 Denise Link, Board Member
Cleveland Metropolitan School District
2014 Terry Grier, Superintendent

Houston Independent School District

2015 William (Bill) Isler, Board Member


Pittsburgh Public Schools



2016 Eric Gordon, CEO

Cleveland Metropolitan School
District