Council of the Great City Schools - Homepage
Return to Headlines
Statement on the U.S. Supreme Court Decision to Eliminate Race-Conscious Admission Policies in Higher Education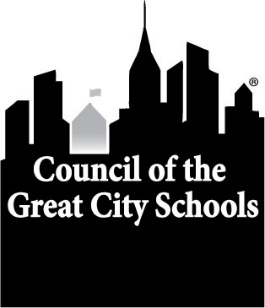 Statement on the U.S. Supreme Court Decision to Eliminate Race-Conscious Admission Policies in Higher Education
Ray Hart, Executive Director, Council of the Great City Schools


The Council of the Great City Schools, the nation's primary coalition of large urban public-school districts, strongly disagrees with the decision today by the U.S. Supreme Court to eliminate race-conscious admission policies in higher education institutions. These policies were developed in recognition of the fact that centuries of racial discrimination and disenfranchisement were not automatically erased when the doors to schoolhouses were opened to all. Despite the Court majority's aspiration for a colorblind approach to education, ongoing and de facto racial segregation has contributed to persistent economic and educational inequality for Black and Latino students. It takes intentional, mindful practices and policies to guarantee true access for all students.
In an amicus brief the Council submitted to the Court in July of 2022, we referenced the vast wealth of research and data that exists illustrating the importance of race as a consideration in building diverse learning environments. Opponents of race-conscious admissions policies argue that minority students struggle academically and there is an "academic mismatch" when they attend schools as a result of these policies. In fact, what the data show is that holistic admissions policies that include race give minority applicants access to higher education institutions that is reflective of their academic potential. Studies indicate that if anything, minority students who benefited from race-conscious admissions policies earn higher grades and leave school at lower rates than other students. For both Black and Hispanic students at Ivy League schools, graduation rates are 90% or greater. These graduation rates are comparable to graduation rates for White and Asian students at these institutions.
A national 2020 study showed that per-pupil K-12 educational spending for the average white student is roughly $6,000 more than it is for the average Black student and $5,000 more than it is for the average Hispanic student. This is not a level playing field. Yet despite such persistent investment gaps at the elementary and secondary level, historically disadvantaged students have proven to be successful when provided access to post-secondary opportunities. Now is not the time to lose sight of the goal of racial equity, or the essential need for policies to disrupt enduring inequities in our schools, workplaces, and society. The Council of the Great City Schools, and its member school districts, will continue to educate our graduates to the highest academic standards, ensuring their post-secondary college and career success.