Council of the Great City Schools - Homepage
Return to Headlines
NYC Opens State-of-the-Art STEAM School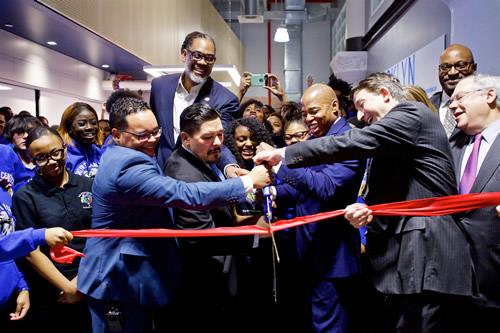 New York City Schools Chancellor Richard Carranza, third from left, is joined by city officials and students at the ribbon cutting ceremony for the Brooklyn STEAM Center. Photo credit: Radhika Chalasni/Brooklyn Navy Yard
The nation's largest school district recently opened the doors of the Brooklyn STEAM Center, a 30,000-square-foot facility developed with high-tech industry leaders to help students identify career interests and learn how to pursue those careers.
The $17 million school focuses on science, technology, engineering, arts and math (STEAM) and is located at the Brooklyn Navy Yard, an industrial campus that houses more than 400 businesses across crative, industrial, technology and other sectors.
Click here to read the story in the March edition of the Urban Educator.