Council of the Great City Schools - Homepage
Return to Headlines
Richmond Veteran Educator Named National Teacher of the Year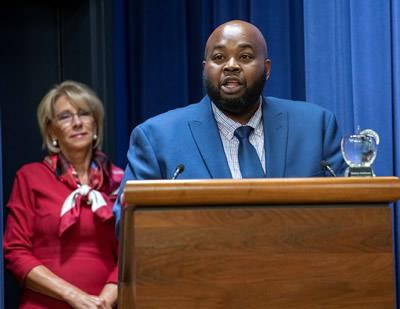 Rodney Robinson teaches at a school housed in a jail in Richmond, Va., because he believes that all students — even those students who have made mistakes in their lives — deserve a high-quality education.
The veteran teacher's efforts to educate all children and his work to defeat the school-to-prison pipeline contributed to his recent selection as the 2019 National Teacher of the Year. Robinson was chosen for the honor from among 57 state teachers of the year.
The selection of the nation's best teacher began in 1952 as an effort by the Council of Chief State School Officers, which administers the program, to identify exceptional teachers nationwide, celebrate their effective work in and outside of the classroom, amplify their voices and empower them to participate in policy discussions at the state and national levels.
Click here to read the story in the May edition of the Urban Educator.