Council of the Great City Schools - Homepage
Return to Headlines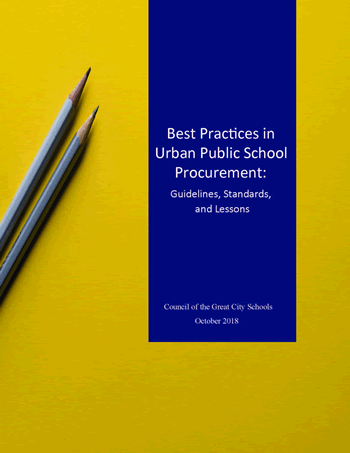 The evolution of technology has brought new purchasing and sourcing tools and techniques to bear, federal regulations (and many state statutes) have undergone significant revision or expansion, and the digital age and the advancement of logistics and communications industries have expanded the available market of suppliers for most requirements, as well as the opportunity to participate in cooperative purchasing initiatives.
This White Paper identifies and describes a number of best practices, both tactical and strategic. The complete list of tactical best practices provided in this Paper is extensive and therefore not provided in this summary. Strategically, however, the core areas listed below are essential to the success and value-added contribution that any Procurement organization can provide to its district, however large or small. Each of these is discussed briefly below and in greater detail in individual sections of the Paper.

Developing a Strategic Procurement Plan


Indentifying Process Improvements



Establishing a Dynamic Savings Program




Implementing a Supplier Scorecards/Evaluations


Expanding Stakeholders' Involvement


Winning over Senior Management


Read the 158-page publication.